MARCH 2015
B.O.B.B. Pre-Order Special for Newsletter Subscribers!
Police Unity Fundraiser
PFC/AR15.com Video of the Month
We Can Be Heroes WOD Series
PSOC Hosted by the San Jose Police Department
Florida Firearms Courses in May
2015 Training Schedule
B.O.B.B. Pre-Order Newsletter Subscriber Special!
PFCloadout.com – The "BOBB" Official Release
 PRE-ORDER YOUR B.O.B.B. NOW – EMAIL HERE!
Support the Police Unity Tour Fundraiser with PFC!
 Founded in 1997 with 18 riders, the Police Unity Tour now includes nine chapters with over 1,800 riders and support
personnel dedicated to raising awareness of law enforcement officers who have died in the line of duty.
  PFC Instructor Patrick Burke will trek hundreds of miles this coming May to arrive at the National Law Enforcement Officers Memorial in Washington, D.C. to honor those officers. 
 Please help support Pat with us by contributing to this great
cause. Click the image above or use this LINK to donate. 
PFC Training / AR15.com Video of the Month
PFC CrossFit  
"We Can Be Heroes" Donation-Based WOD
CrossFit has two categories of benchmark workouts, the girls and the heroes. The 'hero' WODs are a way to honor fallen military, law enforcement , and fire fighters. Each WOD is named after the person it honors and quite often, the rep scheme has significance as well. A hero WOD – as grueling as it seems, physically, when you are doing it – is often a time to reflect and honor. There is definitely a deep sense of satisfaction once you complete 'a hero' whether you do it Rx or scaled.
At PFC CrossFit the last Saturday WOD class of every month is dedicated to a hero and a cause. It is an opportunity to honor our Nation's Heroes and be heroes ourselves to those in need. Most commonly, we ask, as a "cash-in" to the the WOD, that athletes bring one non-perishable food item to be donated to a local foodbank.  Occasionally, our donation-based hero WOD is a larger, fundraising event. A few days before the "We Can Be Heroes" WOD, we will post the WOD we will be running to raise awareness for whom the WOD is dedicated. Unfortunately, new 'Hero' WODs are continually being added to the list. Please join us one Saturday in honoring our nation's heroes and helping our local community.
Featured Professional Training
PROTECTIVE SECURITY OPERATORS COURSE (PSOC)
May 11-15, San Jose, CA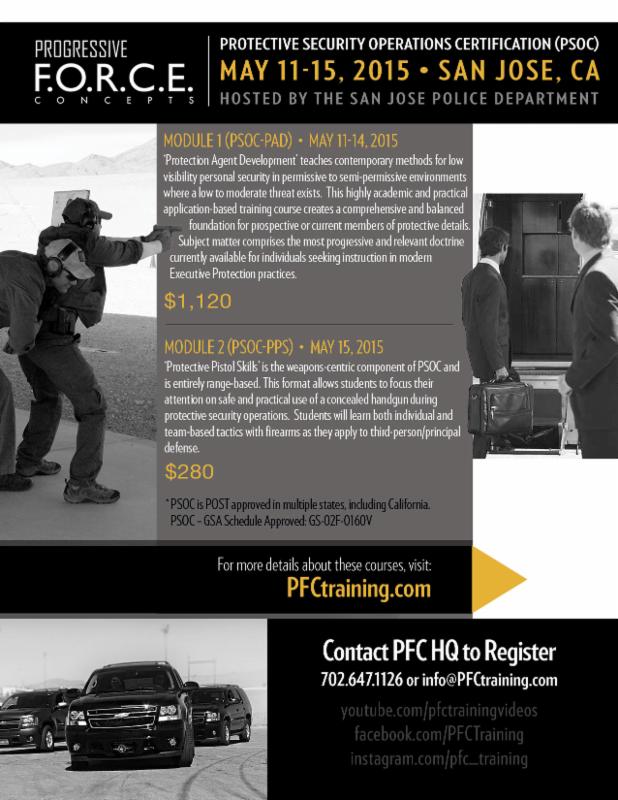 Featured Firearms Training
PROGRESSIVE HANDGUN & CARBINE COURSES 
May 1-3, Tampa, FL
PLEASE SUPPORT OUR TAMPA AREA SPONSOR!
www.SRTsupply.com
Thank you for your support and stay safe,
The PFC Team
Progressive F.O.R.C.E. Concepts LLC
PFC Training | PFC Safeguards | PFC APAC | PFC Loadout | PFC CrossFit