---
October 2016 Newsletter
High Speed Marksmanship w/ JJ Racaza
PFC "Ethos" Glock Slide Plates
Preventing & Countering Gun Grabs!
Trauma Care & Immediate Response for Civilians
12 Hours for Tatas Event
PFC Training Schedule
---
HIGH SPEED MARKSMANSHIP WITH JJ RACAZA
SATURDAY, NOVEMBER 19
LAS VEGAS, NV
Click Image For More Info or to Register
Join PFC and Lead Instructor JJ Racaza on Saturday, November 19th in Las Vegas for a full day of High Speed Marksmanship training.  JJ is a world record holder in the Steel Challenge and is consistently ranked in the USPSA top 3.  He was the number one qualifier of the US Gold Team for the 2010 ISSF World Shooting Championships.  Additionally, he is a triple Grandmaster in the USPSA/IPSC, winning the World Speed Shooting title in both the open and limited divisions.  He is a former Federal Agent with the Department of Homeland Security and during his government service, JJ was a Lead Firearms Instructor, Field Training Officer, and law enforcement academy instructor.
Sign up now and learn how to take your gunfighting skills to the next level!
---
GLOCK "ETHOS" SLIDE PLATES
PFC Logo Glock Slide Plates are now available at:
You already have the shirt or hat, now outfit your Glock with the PFC Ethos.  These custom Glock Plates will fit all Glock models except the G42 (.380 cal) & G43 (9mm).  All other Glock models are supported.  Click on the link below to purchase your own.
Get The PFC "Ethos" Slide Plate Now
MSRP: $17.99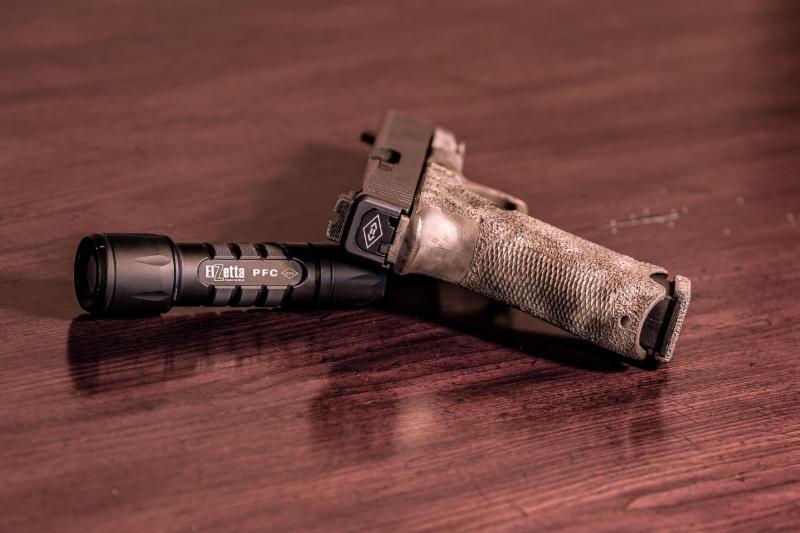 ---
PFC TRAINING MONTHLY DRILL VIDEO
---
SPECIALIZED TRAINING COMING SOON
TRAUMA CARE & IMMEDIATE RESPONSE FOR CIVILIANS  
CLICK IMAGE FOR MORE INFORMATION
---
Last October, PFC CrossFit's Coach Taylor did almost 2,000 Burpees during her "Burpees for Boobies" event that we hosted to raise money for her friend who needed help paying for breast cancer treatment.  This year, we are going to host 12 WODs in 12 hours during our "12 Hours for Tatas" fundraiser and open it up for everyone to participate and help Taylor raise money for that same friend's daughter who was also diagnosed with breast cancer earlier this year.  All money raised at this event will go to help pay for treatment.
Join us for one WOD…come in the morning and come back at night…or you are welcome to stay all day!  Coach Brad will be serving up breakfast in the AM and BBQ'ing in the PM.
This event is OPEN TO THE PUBLIC…you do NOT need to be a PFC CrossFit member to participate.  Each WOD will have a $10 buy-in.
In addition to all of the fun and fundraising, people who participate in the WODs and/or donate will be entered to win some awesome RAFFLE PRIZES like a 1-month Unlimited PFC CrossFit Membership, a PFC CrossFit t-shirt, a PFC CrossFit women's tank top, a pair of men's Reebok Nanos, a pair of women's Reebok Nanos, Coach Dacia's "Kettlebelle" charm necklaces, and more to come!  If you are interested in donating raffle prize item(s) for this event, please contact us at
[email protected]
.
---
---
Thank you for your support and stay safe!
The PFC Team
Progressive F.O.R.C.E. Concepts LLC
PFC Training | PFC Safeguards | PFC APAC | PFC Loadout | PFC CrossFit